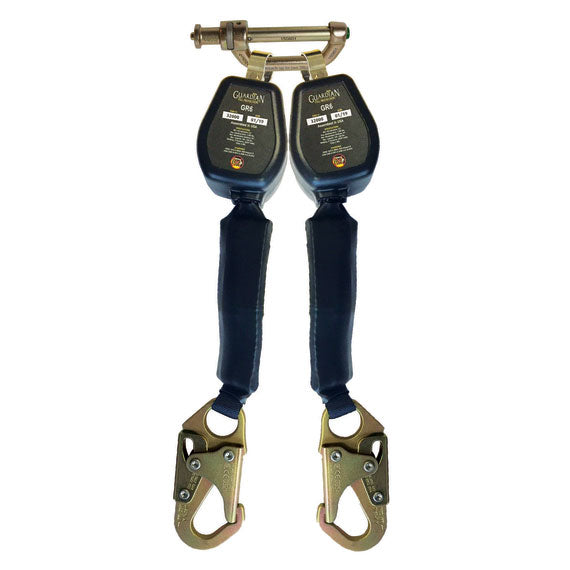 Guardian 32006 6' Double Web SRL with Aluminum Snap Hooks
INCLUDES:
• (1) 11058 Dual-Bracket

FEATURES:
• Carabiner Included
• PC Abs housing
• Internal external shock absorber
• Ultra lightweight
• Fall-indicating swivel attachment point
• HMPE webbing
• Steel or aluminum snap or rebar hooks

SPECIFICATIONS:
• User Weight: 130-420 lbs
• Applicable Standards: ANSI Z359.14 – 2014, ANSI A10.32.12, OSHA 1910 Subpart M, OSHA 1916
• Lifeline Material: HMPE


The Guardian GR6 is so lightweight, you'll almost forget you are wearing it. At a mere 1.7 lbs., and 3.3" x 2.5" x 2.5", the GR6 is the smallest and lightest SRL in its class - but weight is the only thing it gives up. The GR6's housing is constructed from UV-stabilized, high-strength polycarbonate/ABS and surrounds an incredibly strong steel load-bearing chassis. The sealed housing helps keep out dirt and other contaminants, providing extra protection for the internal components. Its HMPE webbing is ultra-lightweight and abrasion-resistant for a long life and is perfect for applications like solar that benefit from a more supple lifeline. Available with steel or aluminum snap or rebar hooks, the GR6 is a perfect fit in general industry, maintenance, and rebar applications.