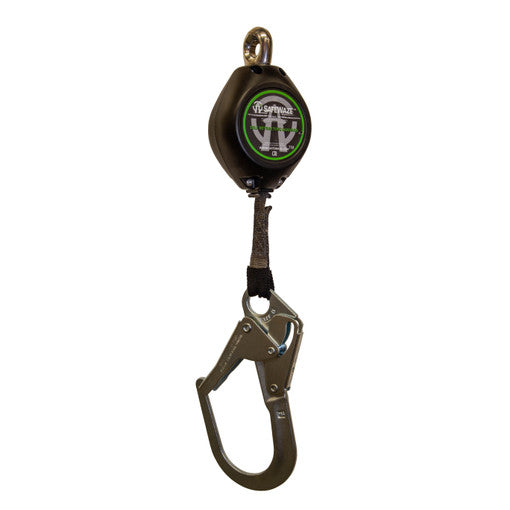 SafeWaze FS-FSP1407-W-RBH 7' Web Retractable with Rebar Hook
INCLUDES:
• (1) Steel Carabiner
• (1) Web Retractable w/ Locking Rebar Hook

FEATURES:
• 7'
• Web
• Mobility-enhancing swivel-top
• Swen-in Fall Indicator
• 1 Rebar hook
• Class A

SPECIFICATIONS:
• 7'
• Aluminum Housing
• 1" Ultrahigh Molecular weight webbing with sewn-in fall indicator
• Forged steel rebar hook
• Forged Steel carabiner
• Maximum arrest distance <24"
• Webbing tensile strength 4,200 lbs.


The first ever ANSI designated Class A retractable, the SafeWaze FS-FSP1407-W-RBH features a mobility enhancing swivel-top, rugged durable housing, and unique braking system that eases shock and minimizes free fall distance in the event of a fall. Includes a fall indicator sewn into the webbing with a rebar hook. SafeWaze retractable lifelines are designed to be used as a single person fall protection device. We offer many configurations of our Class A self retracting lifelines to suit virtually any work environment.