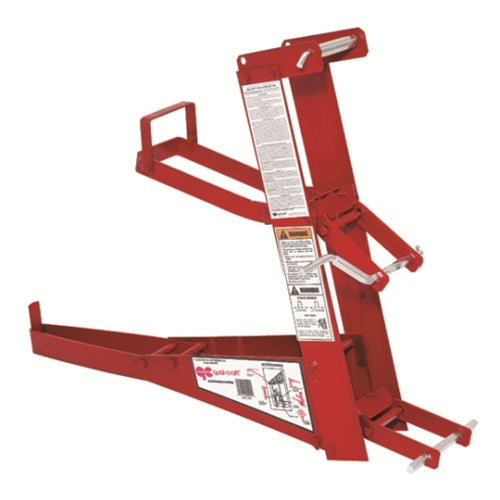 FEATURES:
• For low-cost, easy foot-operated jacking; secures to wood poles
• Platform accomodates two 2"x10" wood planks with toe boards attached
• Rugged steel construction for strength
• Durable powder-coat finish to resist rust

Perfect for shingling, sizing, sheathing, insulating, painting, building, roofing home repair and maintenance, Qual-Craft's "Pump Jack" attaches to scaffolding to lift both building materials and workers with the push of a foot. The body weight does all the work to smoothly lift platforms indoors and out, so there's no more climbing down, detaching heavy material, and lifting it up to the next level as you work your way up. Anyone accustomed to this routine knows that means way less downtime and way more productivity. This versatile system easily adjusts to any height up to 30 feet for doing roof work up high or for repairing first-story windowsills otherwise out of reach from the ground. The jack attaches securely to wood poles with a positive double-lock system, so there's no worry about slipping down the pole when you're way up high. Poles (not included) must consist of two 2-by-4s nailed together with 10d common nails. With the Pump Jack connected, scaffolding platforms are raised smoothly with the foot pump and carefully lowered with a hand crank. Rugged steel construction means optimal durability and flush connections with posts and scaffolding. An extra-large foot strap accommodates large work boots. The Pump Jack's heavy-duty handle locks solidly into place for optimal stability. And, a durable powder-coat finish protects the Pump Jack for years of use. Complete the system with the pump jack brace and guardrail accessories (sold separately).