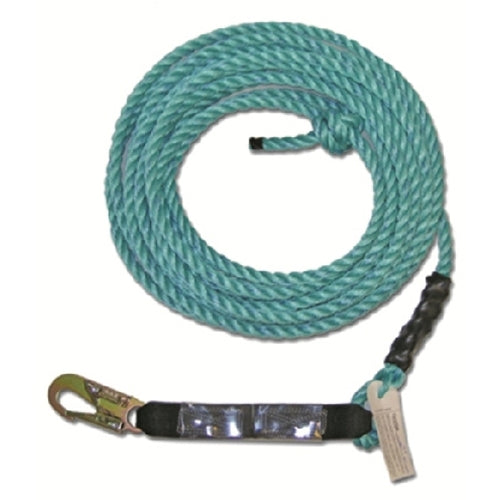 Guardian 01330 VL58-25 - 25' Standard 5 X 8" Rope With Snaphook End
FEATURES:
• Heavy duty 5/8" poly rope
• Resists cuts and abrasions
• Attached self locking carabiner
• Complete assembly includes: shock absorber, positioning device, 18-inch extension lanyard and two double locking snap hooks
• No tangle lifeline available with swivel snap hook

The Guardian Fall Protection "Blue Poly Steel Rope" is exclusive to Guardian. It is ideal for environments that are found to be damp or wet. Nylon rope, when wet, will become 10% to 15% weaker than dry ropes. While the strength does return when nylon rope dries out, the Blue Poly Steel will hold up better overall in these types of environments as they do not absorb water. Blue Poly Steel is particularly strong when it comes to ultraviolet light damage. Its synthetic makeup gives the rope excellent abrasion resistant characteristics resulting in a longer life. Blue Poly Steel is ten times stronger than Polypropylene. While the rope will become fibrous, this does not mean it needs to be replaced. This is a result of normal everyday wear. This heavy duty 5/8 inch thick poly rope resists cuts and abrasions and possesses an attached self locking carabineer.