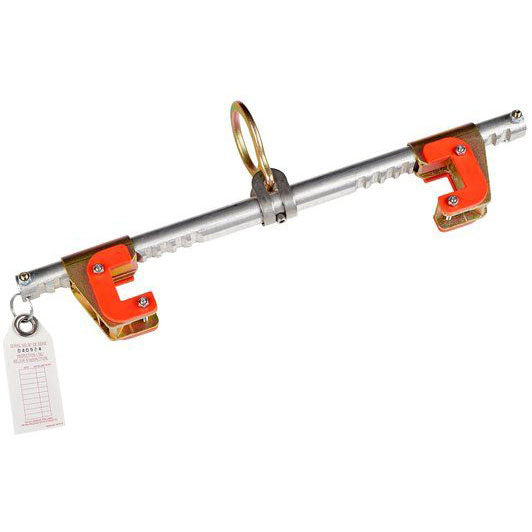 DBI Sala 2104703 Protecta Sliding Beam Anchor, 3/12" to 14"
INCLUDES:
• (1) Protecta Sliding Beam Anchor, 3/12" to 14"

FEATURES:
• Versatile size range Fits beam flanges 3-1/2" to 14" (9 cm-35.5 cm) wide and up to 1-1/4" (3.2 cm) thick.
• Built to last Rugged, corrosion resistant construction enhances longevity.
• Fully adjustable Integrated dual ratcheting adjustment system slides to fit snugly against the beam.
• Guarded locking mechanism Located on the bottom to reduce chance of accidental disengagement.
• Replaceable wear pads Eliminate metal-tometal contact and extend the usability of the product.
• Compliant Meets ANSI Z359.18 and OSHA 1910.140, 1926.502 Anchorage Connector standards.
• Versatile size ranges to fit a variety of beams
• Replaceable wear pads
• Centered, D-ring anchor point
• Integrated dual ratcheting system
• 5,000 lbs (22 kN) strength and up to 420 lbs (189 kg) capacity
• Applications: Bridge work, Buildings, Warehouses, Arenas, Parking ramps
• For foot level tie-off, use 3M™ DBI-SALA® Nano-Lok™ edge Twin-Leg QuickConnect SelfRetracting Lifeline – Cable, 8' (2.4 m) 3500225

SPECIFICATIONS:
• Anchor Hook Material: Metal
• Brand: PROTECTA®
• Case Quantity: 1 each
• Color: Red
• Confined Space: No
• For Use With: I-Beams
• Housing Type: Aluminum, Stainless Steel
• Mounting Type: Reusable
• Product Type: Sliding Beam Anchor
• Recommended Industry: Construction
• Standards/Approvals: OSHA 1910.140, OSHA 1926.502
• Weight: 4.5 lbs


Work confidently with the 3M™ Protecta® Sliding Beam Anchor. This durable solution provides a high-strength anchorage point that follows you while you work. Once you secure it to the beam using the integrated adjustment buttons, simply connect your Self-Retracting Lifeline (SRL) or lanyard to the rotating D-ring and you're ready to work.